Testing, Cleaning and Maintaining Sprinkler Heads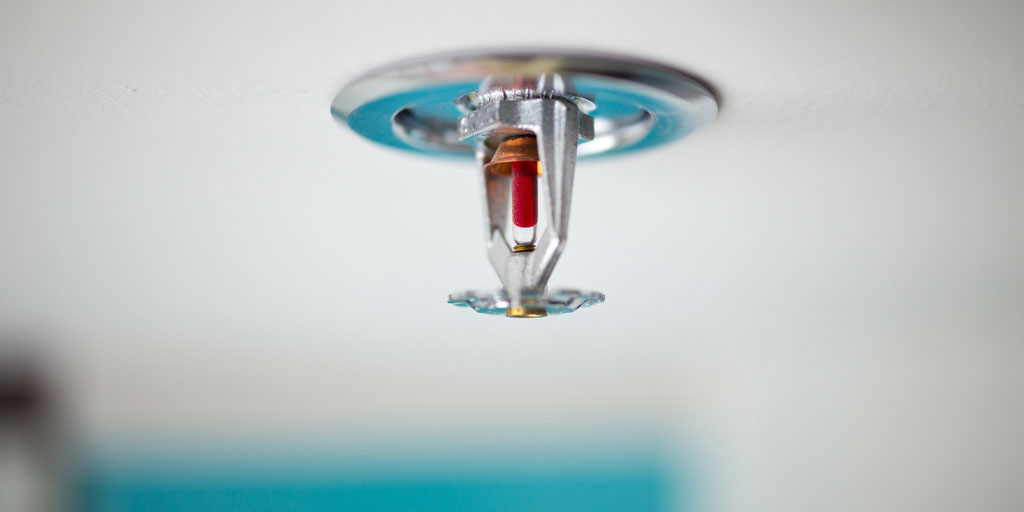 Whether you own a business or manage a building, maintaining the safety of employees, clients and all other occupants is paramount. Having a network of fire detection and protective equipment is a key part of that, and one of the most important types of fire detection and protection equipment is the automatic sprinkler system. Even if a building is vacant, these sprinklers act as the first line of defense against a fire, but they must work properly and have clean sprinkler heads in order to do so.
Cleaning sprinkler heads
Unlike some aspects of fire sprinkler system maintenance, a professional is not required to clean sprinkler heads. First, dampen a rag and wipe the wall down around the fire sprinkler head, which removes any existing cobwebs. Next, use a canned air sprayer and gently spray the entire surface of the fire sprinkler head.
Testing and inspections
In order to keep fire sprinklers in proper working order, conduct regular testing and inspections according to Code 25 of the National Fire Protection Association, which is the standard for the inspection, testing and maintenance of water-based fire protection systems. It is important to retain all records of the most recent fire sprinkler inspections and tests for a minimum of one year and have them available to your service provider if needed.
Sprinkler inspection
An inspection of the fire sprinkler system is essentially a visual check to assess the status of the system. According to NFPA 25, the inspection schedule should be done as follows:
Weekly or monthly: Gauges in dry, pre-action and deluge systems generally need inspection weekly. Gauges in wet pipe systems need only monthly inspections.
Quarterly: Inspect the water flow alarm devices, valve supervisory alarm devices, supervisory signal devices, control valves and hydraulic nameplates every three months.
Annually: Inspect the hanger/seismic bracing, pipes and fittings, information signage and spare sprinklers annually.
Every 5 years: Conduct an internal inspection of sprinkler piping every five years.
Sprinkler testing
Unlike inspections, tests are more in-depth physical checks of fire suppression sprinklers. NFPA 25 requires a fire sprinkler testing schedule as follows:
Quarterly: Fire sprinkler mechanical devices need quarterly testing to ensure efficacy and efficiency.
Semiannually: Test vane and pressure switch type devices every six months.
Annually: Test and tag the system annually. Physical checks on all parts of your fire sprinkler system are performed during complete fire sprinkler system tests and include the testing of water flow, fire pumps, antifreeze concentration and alarms as well as trip tests of dry pipe, deluge and preaction valves.
Every 5 years: Sprinklers and gauges exposed to extremely high temperatures and harsh environments need testing or replacement every five years.
Every 10 years or more: Dry sprinklers require testing or replacement every 10 years. Fast-response fire sprinklers need testing after 20 years in use and then every 10 years after that. Standard response sprinklers need testing after 50 years in use and every 10 years after that.
At Ivanco, we know that an effective, efficient fire alarm system is crucial. We offer our clients peace of mind by installing only the most advanced fire alarm systems, using trusted brands such as Edwards. We make providing the best products and offering the highest level of service our driving mission, and our clients find a great sense of security in knowing that we deliver the same level of excellence in all that we do.
Call the knowledgeable team of fire alarm system experts at Ivanco, Inc. today to learn more about how to clean your sprinkler heads!